Kleek Apprentice Barber Scores an Outstanding Distinction
It's always a great day at The Kleek when we get our apprentices results through from our friends at City and Guilds and the latest result we received was no different.
The 19th January was the culmination of a year of hard work and determination for Kleek Apprentice Greg Brough who not only passed his Level 2 Barbering Apprenticeship, he passed it with a fantastic Distinction earning glowing reviews from his independent assessor including comments such as "Greg went the extra mile in terms of delivering all services" and "Established a rapport with each client and anticipated their needs throughout the service"
Greg's journey began in the first lockdown period where he started out as a "Lockdown Barber" cutting his families hair, but he had been bitten by the bug and after the restrictions were lifted, he sought out professional barbers to teach him the skills, knowledge and behaviours to become a qualified barber.
"The lockdown period gave many individuals the opportunity to reassess their lives and careers. As a self-taught "lockdown barber," I began my journey by cutting my family's hair in the kitchen with a basic beard trimmer and one guard (I wouldn't recommend it). However, once the lockdown restrictions lifted, I sought out a professional barber to train me as an apprentice. "
It was at this point that Greg met with Preston Gardiner from Preston at Poets Barber Shop in Brighton and was enrolled on his Hair Professional Standard Barbering Apprenticeship with Kleek Apprenticeships. This gave Greg the direction and structure to gain the skills he was so dedicated to learn.
"Thanks to Kleek Apprenticeships and my educator, Anna, I had a clear and structured path to follow in order to achieve my qualifications. Kleek played a vital role in my development as a professional and as a person. They provided a supportive environment and showed genuine concern for my wellbeing, which helped to keep me motivated throughout the process. "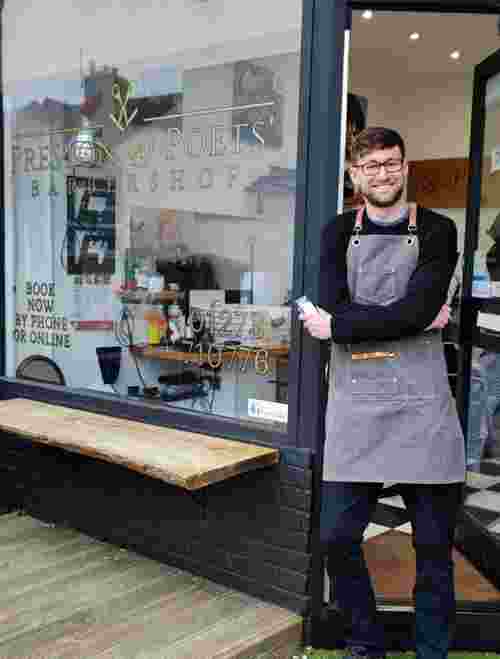 However it takes more than the training provider and in house trainer to gain the result that Greg achieved and as Anna, his Kleek Educator commented.
"Greg was focused and passionate about barbering throughout his whole apprenticeship. He embraced all the opportunities and challenges along the way, and his hard work and determination has paid off in achieving an excellent Distinction grade in his EPA.
Greg always listened to the targets he was set, and worked closely alongside his boss and trainer, Preston, to learn the knowledge, skills and behaviours to grow into a barbering hair professional. Greg was always focused on achieving his end goal."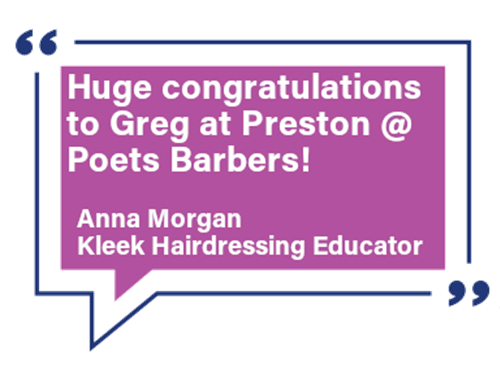 The future is looking bright for Greg with plans for Preston to open a second barbers and Greg to take over the management the Hove shop. But both he and Preston are also grateful for the help and support from Anna and Kleek, "Both my boss and I couldn't have achieved this without the guidance and support provided by Kleek.".
This sentiment is reciprocated by the team at Kleek none more so than Anna who is looking forward to watching the meteoric rise of Greg and supporting the development of the team and business at Preston at Poets with more apprentices in the future.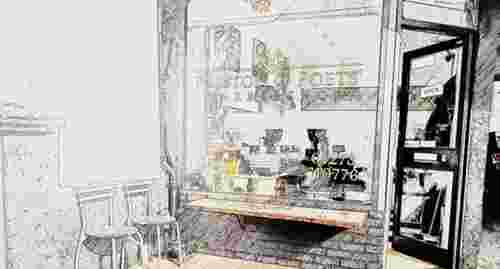 If you are interested in following in Greg's footsteps and learning to be a barber, or hairdresser, beauty therapist or wellbing therapist, Kleek has apprenticeships to suit all levels, check out the opportunities below.
But we will leave the last word to Greg who has this piece of advice to both shop owners and those who are looking to break into the hair and beauty industry.
"I highly recommend Kleek Apprenticeships to anyone looking to acquire valuable, transferable skills. Thanks, Kleek!"