Celebrating success: Kleek Apprenticeships shine bright at VTCT Excellence Awards
We pride ourselves at Kleek Apprenticeships for being a trailblazer in the world of vocational hair and beauty training. We are therefore delighted to share news of our recent success at the VTCT Excellence Awards 2023.
The Innovation Hub at Milton Keynes College hosted the awards ceremony on July 13th, where Kleek Apprenticeships won two highly competitive awards: Apprentice of the Year and Educator of the Year.
The Apprentice of the Year award recognises exceptional apprentices who have gone above and beyond, demonstrated outstanding performance and created new opportunities for themselves. The competition was fierce, with impressive stories and achievements showcased for all in a video montage.
Amazingly all but one nomination in this category was for a Kleek Apprentice – quite an achievement! 
Apprentice Of The Year
The overall winner of the Apprentice of the Year was announced as Natasha Bloor.
Natasha is a Kleek Apprentice at Bliss Hair in Nottingham and proved to be a true inspiration to all. Natasha has demonstrated how nothing can get in the way of your dreams. Natasha is deaf and has a cochlear implant, and has used her exceptional communication skills, including lip-reading, to build strong relationships with both colleagues and clients alike. Natasha has also raised deaf awareness in her salon, becoming their BSL (British Sign Language) consultant, providing support both in person and over video calls. She has also returned to her former school to share her story and encourage others to follow in her footsteps.
On winning, Natasha said, "What a journey! Training to be the best I can be. I am so grateful for all the support and encouragement I've received from the team at Bliss Hairdressing and Leona Kear and the team at Kleek Apprenticeships. I'm really excited to see what the future holds!"  She is certainly a deserved winner and role model for aspiring apprentices everywhere.
As is Maria Snow, another Kleek apprentice who received a Highly Commended Apprentice of the Year award in recognition of her incredible path into the industry. Maria defied expectations by embarking on her apprenticeship as a mature learner, proving that age is just a number when it comes to pursuing your dreams. Her story is a shining example that with dedication and determination, you can forge a new path to career success, no matter your stage in life.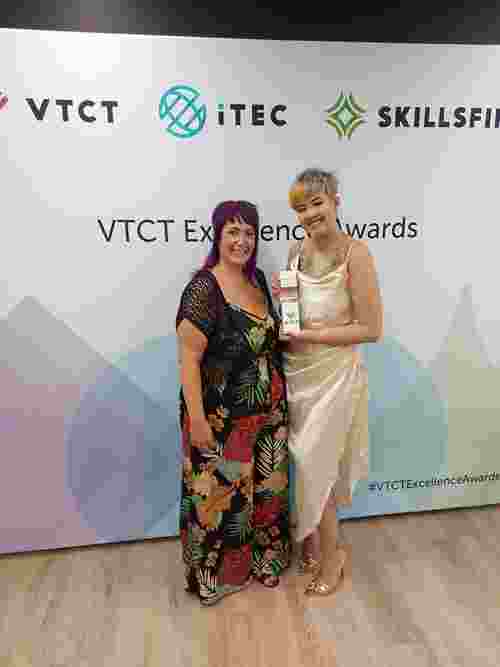 Educator Of The Year
Kleek Apprenticeships also triumphed in the Educator of the Year Award that was awarded to our National Training Manager, Nicola Aviolet.
Nicola's dedication shone brightly as she provided unwavering support to apprentices facing challenging circumstances. When she discovered that one vulnerable apprentice was sleeping in her car due to a housing crisis, Nicola's safeguarding skills kicked into action, and she ensured everything was put in place and available to help our apprentice get back on track.
Nicola commented, "Winning this award fills me with immense pride. At Kleek Apprenticeships, we strive so hard to achieve the best possible outcomes for our apprentices. Being a part of their journey towards success in the Hair and Beauty industry is incredibly fulfilling for the entire Kleek team."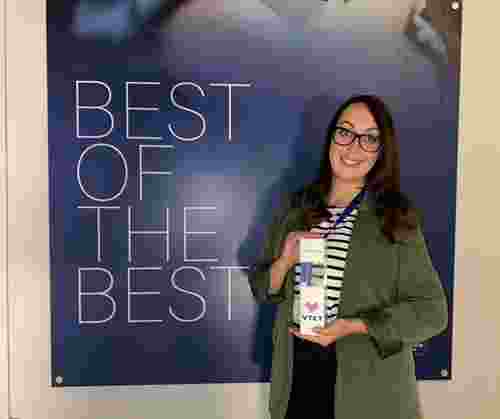 Training Provider of the Year
Kleek Apprenticeships also received a Highly Commended Award in the Large Training Provider of the Year award. This is an extremely competitive category and one that we were just pipped to the post. But we are delighted that our initiatives to support all our apprentices were applauded in this way. It certainly further solidifies our position as a leader in the industry.
Our Managing Director, Tina Ockerby commented: "This recognition is a testament to our unwavering commitment to providing exceptional training and support to all our apprentices and employers. These accolades reinforce our belief in the power of apprenticeships and inspire us to continue nurturing aspiring hairdressers, beauty therapists and barbers, and transforming lives through our apprenticeship programmes."
We are extremely proud of all our winners, Natasha and Nicola, finalists, Amy Nixon, Maria Snow, and Mandy McMullen and everyone from Kleek Apprenticeships who were nominated for the VTCT Excellence Awards.
The future is bright for Kleek Apprenticeships and Kleek Apprentices!